Meetings & Events - Reykjavík Marina
Reykjavík Marina offers inspiring rooms for meetings and events. Choose from a classic boardroom seating, a movie theatre, or a relaxed set-up with couches and chairs where attendees can collaborate and ideas can flow more freely. On site you will find Slippbarinn Restaurant & Bar.
Slippbíó
Our ever so popular Slippbíó triples as movie theatre, lecture or presentation hall, seating 25 people. Slippbíó includes a projector, full sound system, a screen and cable to connect your device.
Theatre seating: max 25 people
Size: 29,4 m2
Living Room
Our inviting and comfortable Living Room is just next door to Kaffislippur. The Living Room seats up to 16 people in boardroom style and is also well suited for a standing cocktail reception. The Living room is equipped with a flat screen and a cable to connect your device.
Boardroom seating: max 16 people
Size: 27,7 m2
Community Table
A long, sturdy wooden table seating 22 people in a board room set up. The room is located in our restaurant Slippbarinn and is perfect for private dining, meetings or social events. The room can be closed off with sliding glass doors and thick curtains to add privacy if wanted. Community table is equipped with an flat screen and cable to connect with your device.
Boardroom seating: max 22 people
Size: 28,5 m2
Lounge
The Lounge is an unconventional meeting space that gets your creative juices flowing. The room can be split up in two areas by a turning bookshelf. The Lounge is equipped with a flat screen and cable to connect your device for boardroom meetings.
The Lounge is ideal for pre-dinner drinks or cocktail receptions where guests are served drinks and canapés.
Boardroom seating: 8 people
Cocktail: 70 people
Size: 73 m2
Smiðjan
Spacious and bright room with a beautiful fireplace and a small stage giving multiple options for various meetings and events for up to 40 people.
This open space is ideal for meetings, lectures, cocktails, and light lunches, as well as events that change. For example, start with a meeting or lecture and go over to a food and drink mingle event.
Included is a projector and screen that you easily connect to your device.
25-30 people, depending on the layout
Size: 53,4 m2
Catering
Please contact us by email marina@icehotels or by phone +354 560 8000 for more information and bookings.
Please note that the movie theatre, Slippbíó, is the only event space that is completely sound proof.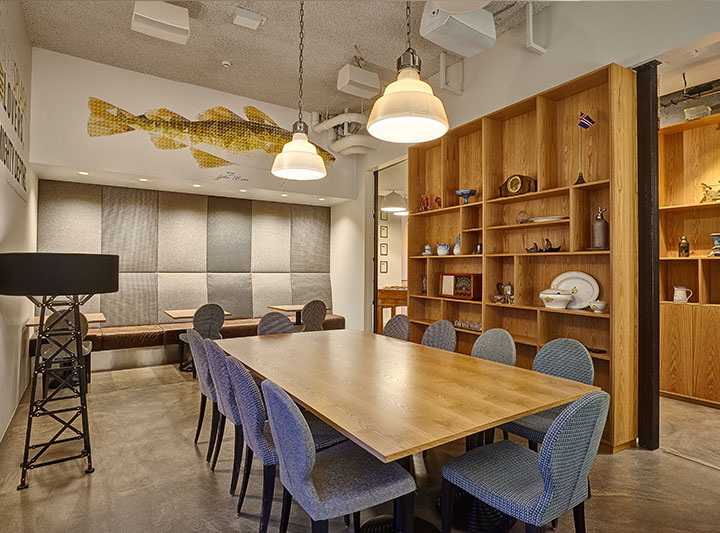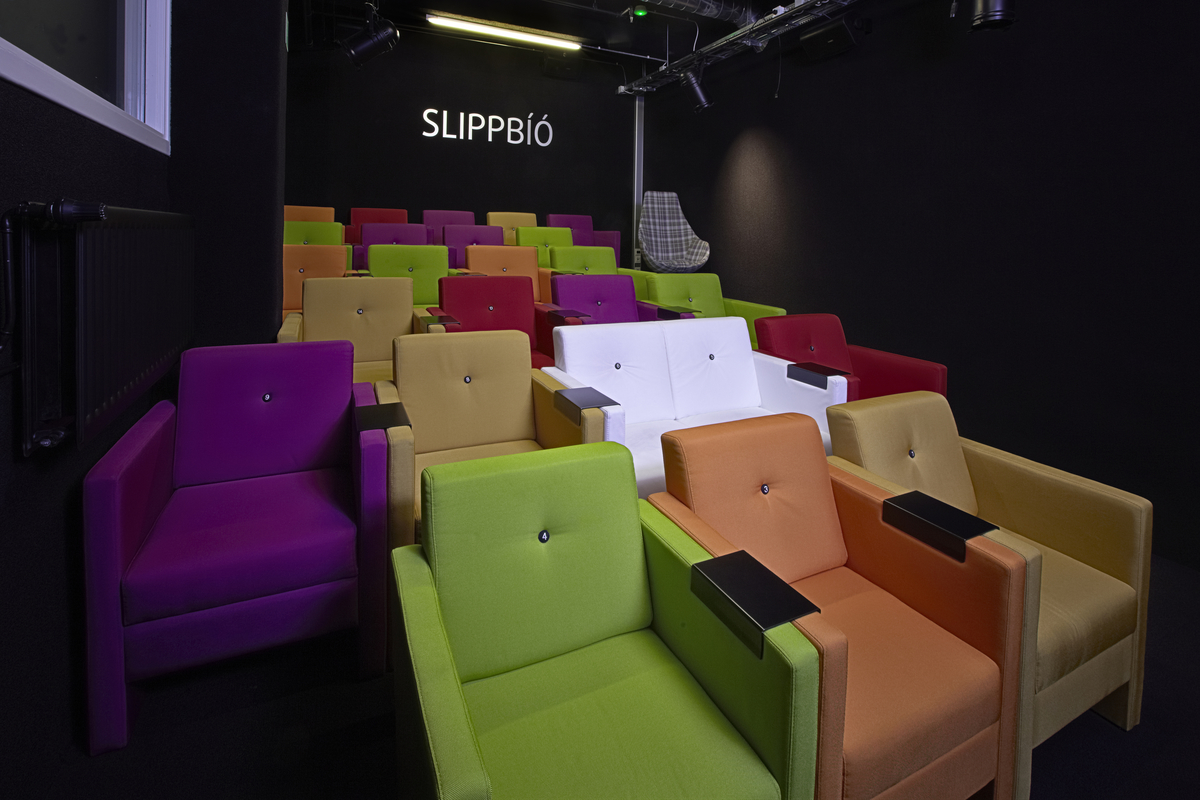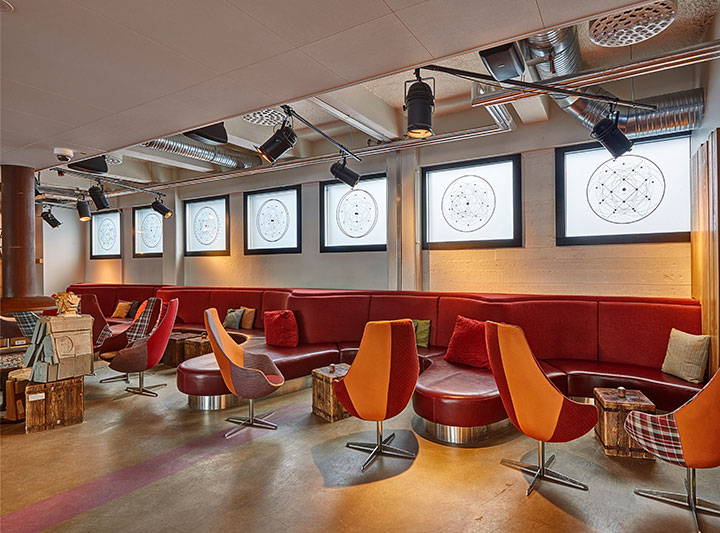 Alternative and fun meeting & banquet facilities
Events can be held in Reykjavik Marina's open space areas where a cozy, unique environment with great facilities can prove to be a lot of fun for those informal, unconventional meetings.
Sofas, pillows, chairs and cushions provide comfort whilst the beautiful decor, consisting of modern Icelandic design mixed with a number of old local gems, attracts the attention and admiration of visitors – but we think the open fireplace seals the deal.
Reykjavik Marina's lobby is available for individuals and businesses to rent and hold all kinds of events – the area holds up to 100 people.
The facilities are great for holding presentations, seminars, meetings, receptions and banquets
A wide range of catering which can be tailored to your needs
For further information and bookings, send an email to marina@icehotels.is or call (+354) 560 8000.